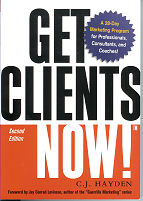 I'm giving away one copy of this fantastic book by C.J. Hayden 'Get Clients Now!'.  It was originally recommended to me by a friend who has a very successful business and I'm now following the recipe in this book – it's amazingly effective and it works.
This book is an essential in any Work at Home Moms library and you can win it simply by leaving a comment below.
From the back cover:
If you're ready to dramatically increase your client base, this brand new edition of Get Clients Now! is the one book you need.  Completely revised and featuring scores of tactics, tools and foolproof strategies customisable for any professional service business, this powerhouse book gives you a unique and proven 28-day program for locating, landing, and keeping new clients in greater numbers than you've ever dreamed possible.
You'll learn: how to choose the right marketing tactics for your situation and personality; a foolproof method for diagnosing exactly what's missing in your marketing and how to fix it; how to use Internet marketing techniques, including e-zines, SEO and blogging; hands-on approaches for replacing unproductive cold-calling with the power of relationship marketing; and much much more.
Please note that this book is for Service businesses rather than retail.
How to enter
Simply leave a comment below and tell me what you like most about SuperWAHM (or WAHM Biz Builder as we were).  The competition runs for four days.  On Saturday 16th I'll draw a random number for the winner and post in the comments as well as email the winner.
I'm more than happy to post anywhere in the world, so Good luck!
And the winner is….. Stephanie, from Scratchpad Secretaries, comment #16