SuperWAHM 1000 Challenge
My Mission for 2011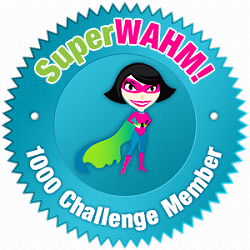 How would you like to make $1,000 every month?
A few years ago, when people asked me that question, I would sigh. I would've LOVED to make $1,000 a month. But as a work-at-home mom, I was struggling to pay the bills and working myself into the ground for so little money that I wondered if it was worth it.
I was a tiny business (bookkeeping at the time) – and I couldn't find anyone who could tell me how to get from tiny even up to small. That's all I wanted: to be a small business. One that brought in enough money to make it worth it… and that didn't leave me feeling like I was working for nothing.
You can put a number on this feeling: $1,000 a month. And that $1,000 is pure profit, not gross. It's $1,000 of take-home pay, the "what's left in your pocket" after business expenses are paid.
When a work-at-home mom brings in $1,000 a month, she feels successful. Self-confident. WORTH something. She feels less stressed and doesn't worry as much about the bills. She's happier and feeling good about what she does. She knows she contributes to the household and helps support her family.
To give a mum self-confidence that her work-at-home business is a REAL business is…
Well, it's my mission this year.
I decided that in 2011, I want to help give work-at-home mothers that self-confidence by helping 200 of them learn how to bring in $1,000 profit (that's in-your-pocket-cash) each month.
Why do I want to do this? Because I've been where you are. Because I know how it feels. And now that I'm successful and turning a profit with my own work-at-home business, I can help you achieve what I have – maybe even more!
I also want to do this because I'm so fed up with the negative perception so many people have of work-at-home moms. I know that people don't take you seriously. I know you hear comments that it's just a hobby or even suggestions you should quit. I've even heard some WAHMs complain they've been told that their products or services must be low-quality, if they have to work from home!
I know that none of that is true. If you're a work-at-home mom, I know you care about what you do and you want to do great work. You want to enjoy respect from friends, family and especially clients. You want to show them that your work matters and counts as more than a hobby. You want your business to be a success.
And you want to do it while working from home.
I want to help you show the world that you're fully capable of turning a profit as a successful business. And since I know you can do just that, I'm challenging you.
Join me in the SuperWAHM 1000 Challenge and make 2011 the year you earn $1,000 a month in profit from your business. I'm devoting my full year's focus to this quest and mission of helping you get there. I'm going to give you all my dedication, determination and support, because I know you can do it.
You just need a little help. And that's where I come in.

All you need to do is say yes.
Imagine what happens if 200 work-at-home mums join the SuperWAHM 1000 Challenge. They learn tricks, tips and get support to reach their goal of making $1,000 profit each month.
200 WAHMS at $1,000 a month is $200,000 a month.
$200,000 a month is $2,400,000. That's two million four hundred dollars.
Who said work-at-home moms weren't powerful? Nearly $2.5 million going into WAHM pockets every year is a pretty darned big deal. Most small businesses don't even make that much profit in five years!
If you had $1,000 in pure profit to spend each month, what would you do? Would you buy groceries or pay off the mortgage? Would you take your kids on a trip or save up for their education? Would you buy better furniture or clothing?
What would you do with $1,000? Not once… but every month for a year?
Join me in the SuperWAHM 1000 Challenge. It's completely free. And it starts right now.
Is the Challenge Right for You?
This challenge isn't for everyone. You'll need to put in consistent effort, time and work hard each month. That means you need dedication, commitment and motivation to succeed. And you need to believe in yourself – even just a little bit.
If you believe you can do this with the help of an expert and the support of a community, then take the challenge. There's no risk. You'll thank yourself for saying yes.
How to join the SuperWAHM 1000 Challenge:
The SuperWAHM 1000 Challenge is completely free. You'll never be charged a penny. There's absolutely no risk and nothing to lose – and there's $1,000 a month on the table. Will you take it?
You can sign on for the SuperWAHM 1000 Challenge in just one step:
Register at http://superwahm.com/registration to join the forum and community.
After you register, you'll receive a welcome email with details and your first set of helpful hints to making the most of this life-changing challenge.
What does the challenge involve?
Good question. Since it's a fluid, adapting process, it depends entirely on who joins and your specific needs to reach the goal of $1,000 a month. I don't want to box anyone into a predetermined set of steps – I want to do everything I can to help each member succeed in the challenge so you hit the goal and walk away victorious… and richer.
To sign up and become an active member of the SuperWAHM 1000 Challenge forum, register here: http://superwahm.com/registration
You'll need to be actively committed to working on your business and doing what it takes to reach the challenge goal of $1,000 profit every month by the end of 2011.
I can't make that money appear for you like magic – no one can promise you that. I'll give you tools, techniques, tips, business advice, mentoring, support and more. But you have to do the work that helps you reach your goal.
When you join the challenge:
You'll get badge to put on your website and proudly show off you're a SuperWAHM 1000 Challenge member. Show off your commitment proudly – and dare others to join!
You'll be able to ask me and other members questions in the forum when you're not sure what to do. It's free advice and consultation to help you get unstuck and finally succeeding.
You'll have access to all my challenge content that I'll be publishing on my blog, and you'll get exclusive access to the discussions happening in the forum.
Consider the challenge a huge think-tank of WAHMs all working together towards the same goal – you can't go wrong with that kind of support, and you'll never be alone with your struggles like you are now.
Why is this free?
The SuperWAHM 1000 Challenge is completely free. I'm giving away my advice, expertise, skills and time as my own personal mission to help 200 WAHMs reach $1,000 in profit every month. I have the power to change lives and the skills to make that change happen, and I want to give that to 200 WAHMS who are ready to accept the help and commit to the challenge.
As a SuperWAHM 1000 Challenge member, you'll always have free and exclusive access to me in the forum and on the blog. You don't have to buy anything or pay for my time.
You can always buy my ebooks, guides, private consults and services if you want. I own a business after all, and these extra resources can give you a huge boost towards your goal. So if you want to reach the $1,000 a month faster, then I recommend my products and services as a shortcut to get you there.
What happens when you reach the goal of $1,000 a month?
That's when the fun really starts!
When your business brings in $1,000 in pure profit every month for three months in a row, you become a Certified SuperWAHM Power Member.
You'll receive a special badge as recognition for your achievement. Show everyone you're a success!
You'll get special access to a private, exclusive area of the forum reserved for Certified SuperWAHM Power members like you.
You'll benefit from the opportunity to network and discuss business with other Power members – use their tips and discover even more success.
You'll receive Power member money-saving coupons for all SuperWAHM products and services.
You'll be invited to special monthly teleseminars designed only for Power members. Discuss challenging topics and advanced techniques for your level of success.
What are you waiting for?
Join us in the SuperWAHM 1000 Challenge. Register today: http://superwahm.com/registration
You can jump straight in. Introduce yourself and meet other members right now or post your most urgent questions in the forum and start getting much-needed answers.
And pass it along: If you know any work-at-home mom who could use this challenge and the support it gives, please let her know. Just send her link to this page so she can join. You can even join together!
Spread the world elsewhere. Feel free to talk about the challenge, tweet about it using the hashtag #superwahm1000, post your progress on Facebook and tell your friends. It's a challenge worth being proud of, so shout about it!